The star of this post is
Ruby
!!
A most delightful Wild Sprout... available at The
Greeting Farm
and designed by
Amy
.
******************************
My first card is for
FARM FRESH FRIDAY
- which this week is Celebrating the fact that Marie, Jess and Randi are at CHA... and to HELP BRING ON THE SUN!
So here is my shiny, happy card...

******************************

My second card is for
Sketchy Saturday #3
... and as there is no prize/ this is just for fun then I'm hoping it's OK for me to combine this with the
FLUTTERBY WEDNESDAY CHALLENGE
---the challenge this week is to use embossing -- any kind --- with your
butterfly
, fairy or angel.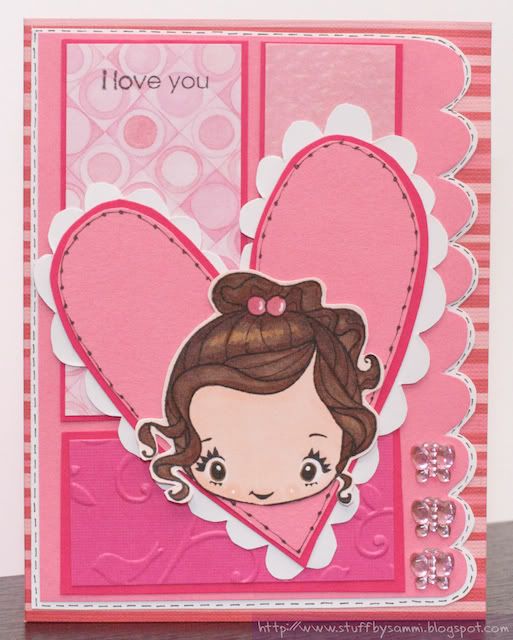 I cut Ruby's head out so she would fit in the heart ... and I added in the "frills" around the heart - that were not in the sketch.... and added some butterfly bling!
Is it too pink???
I LOVED this sketch and think I just might have to give it another go sometime!! Note to self: Must file sketches I love and want to use again in a folder where I will see it!
Thanks for stopping by ---
before I go - just a note of warning/ excitement
....
TGF
are having an amazing CHA relay race this week... starting Today (5pm Sun here in Sydney) ... it starts with a freebie Sprout (YAY!!!) and then if you make a card and post it by Mon -6pm CST (Tues at 11am here) you will get another sprout to participate in that days challenge and so on ... with the chance to get 5 free digi sprouts! I'll definitely be doing all I can to play along ... so watch out for lots more TGF cards in the next few days (lol... can you tell I LOVE them> hahaha) Well, here's hoping
Marie
,
Jess
and
Randi
are having a blast at CHA and that everyone else is having a GREAT weekend!
xxx