"There was not a moment to be lost: away went Alice like the wind, and was just in time to hear it say, as it turned a corner, `Oh my ears and whiskers, how late it's getting!' She was close behind it when she turned the corner, but the Rabbit was no longer to be seen: she found herself in a long, low hall, which was lit up by a row of lamps hanging from the roof.





There were doors all round the hall, but they were all locked; and when Alice had been all the way down one side and up the other, trying every door, she walked sadly down the middle, wondering how she was ever to get out again."




-- Chapter 1, Alice's Adventures in Wonderland
This month's challenge is to use a door or doors, and preferably for the door or doors to open and close so we can see what lays beyond!
While it is not required that your project include Alice in Wonderland, we do encourage it. If your project features Wonderland you will get two chances in the prize drawing instead of one!
We are extremely happy to have
The Octopode Factory
, the slightly mad brainchild of 17 year old artist Lily Chilvers,
as our March sponsor!
We are celebrating because Lily has moved into the world of rubber! That's right - RUBBER STAMPS! The Octopode Factory will have both digital stamps AND rubber stamps on some of her most popular images, which includes most of her AMAZING Alice in Wonderland images!.
Read about the new range of Octopode Factory rubber stamps and how to order.
Lily started with her quirky digital images, and she has gifted the design team members with some of her wonderful Wonderland
digital sets
. Most of the digital images we will be using are those that are now available in rubber,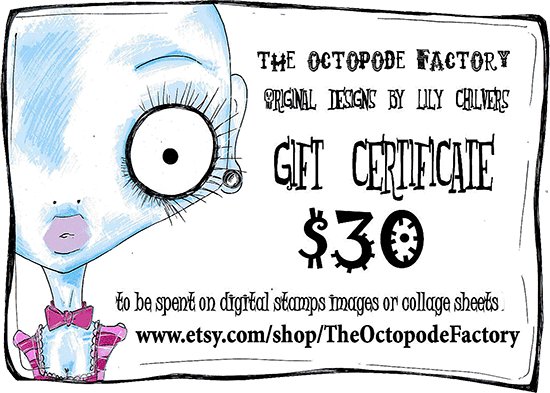 One lucky winner will win a $30 gift certificate for digital images from
The Octopode Factory's Etsy store
! Enter by Friday, March 25 at 8 p.m. Eastern time (GMT -5:00) and a winner will be announced on Sunday, March 27. Show us your DOORS!
Ok... Time for me to show you my inspiration for this challenge... using the GORGEOUS but slightly twisted Alice in Wonderland stamps.



When I saw Lily's Awesome characters from Wonderland and found out our challenge was doors I had the perfect idea on what to make... so I have made a little booklet... the cover is a door with a little peepy hole... It's hard to see here but IRL you can just make out an eye peeping through..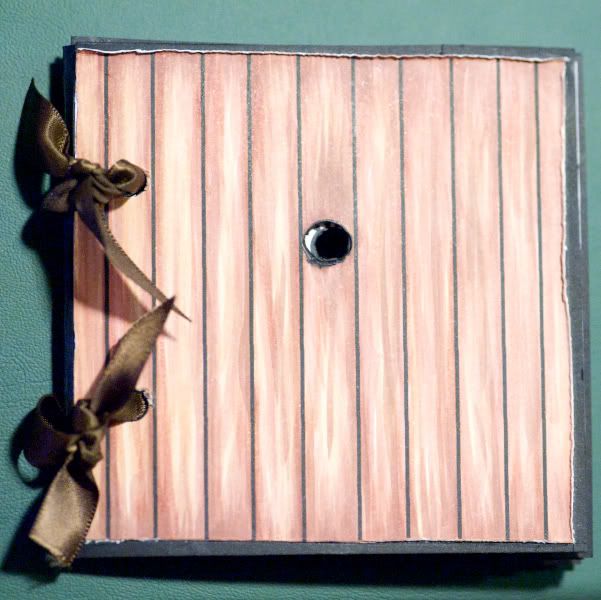 And then inside we have...
Alice
...sitting utop the hall of doors quote, but there's more...
The White Rabbit
which is also (of course) on some text from the book - where Alice first sees the white rabbit... I thought it would be fun and kind of like Alice through the looking glass to have the text mirrored on the other side of the page as well!
peeking out behind the White rabbit is....
The Queen of Hearts
... with the text of Alice meeting her and almost losing her head or some such nonsense!!
Tweedle DUM and Tweedle DEE!
(you can see better that eye peeping through now!!)
The Cheshire cat
What would this MAD little book be without

The Mad Hatter

himself! Looking pretty mad if you ask me! lol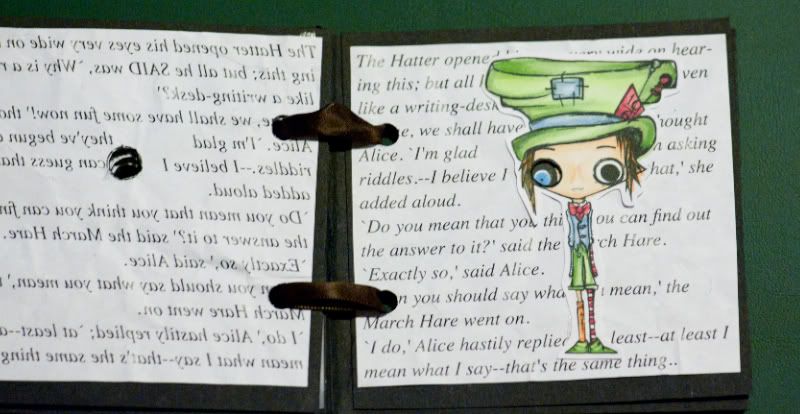 and then then end of the book is Alice herself .. just Alice... looking on! quite bookish if you ask me!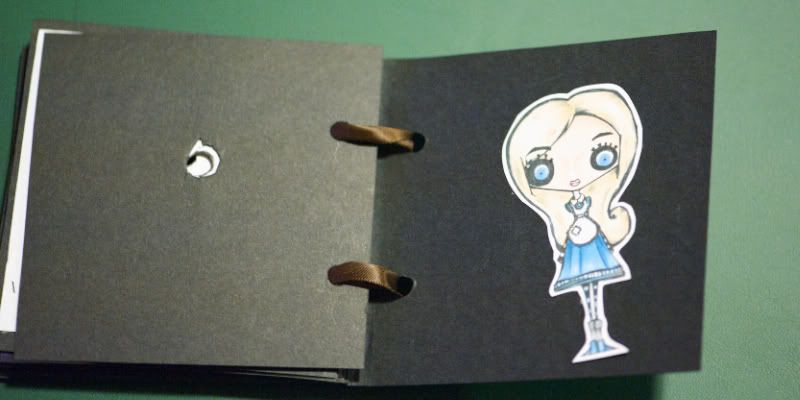 now make sure you check out
The Altered Alice blog
today and over the next few weeks to see the AWESOME creations the team come up with.. and can't wait to see what all the people out there in Underland come up with as well!!!

Also think about visiting The Octopode Factory blog and letting Lily know how much you appreciate her sponsoring our challenge this month!
As a brand new challenge blog, we are desperately seeking sponsors and The Octopode Factory is a great fit!